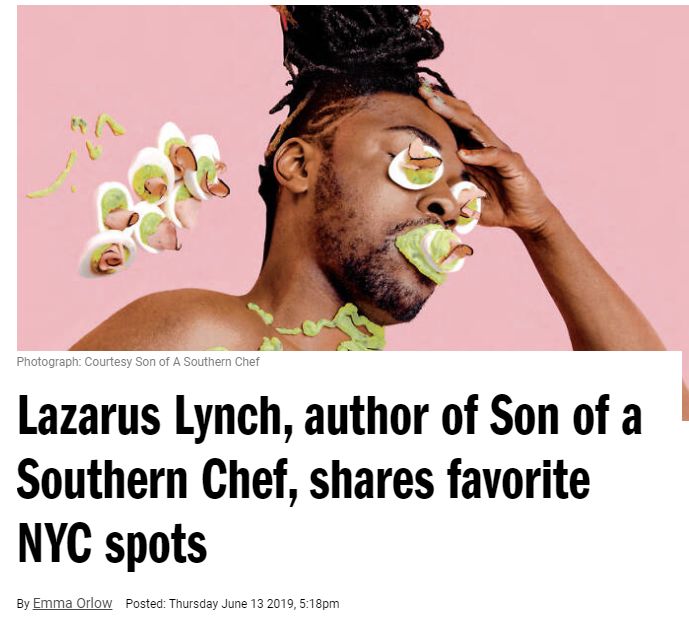 As Timeout mentions, Lazarus Lynch is not from the south but a Jamaica Queen's native. He was a raise in a Guyanese-Southern American household. In his interview, Emma Orlow asked:
In your intro you talk about growing up in Southside Jamaica, Queens and going to the fish market on Jamaica Ave. Do you have any other favorite spots in Jamaica that you'd recommend to readers, particularly for ones who may have never been to that part of Queens?

Source: Timeout.com
Lazarus says:
If you're ever in Jamaica, check out Sybil's Bakery on Hillside Avenue. They really do Guyana justice. Backstory: my mother is Guyanese and used to work for a hospital right around the corner. So, growing up, we would stop by that bakery for authentic Guyanese pastries. I love to order their cheese rolls (which are flaky pastry sheets filled with cheese and mustard) or their pine tarts (more flaky pastry filled with a pineapple jelly-like filling). I also really like their saltfish and bake (stewed codfish in peppers, tomatoes and onions stuffed in a soft, fried bread). They also make fantastic roti. I once kindly harassed the chef for the roti recipe and was told that chefs' secrets must never be shared. Clearly, I disagree. I was actually inspired to make my own versions of these delicious products and they made it to my cookbook.

I also really love Trinciti Roti Shop—a bit further out in South Ozone Park (they UberEats)! I learned about them while attending my Trinidadian friend's home barbecue.

Source: Timeout.com
We are incredibly honored to be mentioned during his interview. Another Queens native on the come up. Please make sure you support him, you can find his cookbook here.